---
Otoplasty – Ear Reshaping
---
---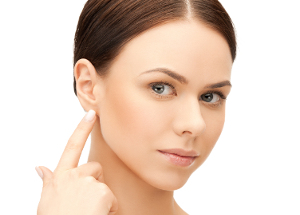 ---
The treatment consists in cutting out excess skin from behind the ear and then cutting (or in some cases even removing) the cartilage. After sewing the cartilage and edges of the wound, the ear auricle should stick to the head. Most surgeons put a special structure on the cartilage on the front surface of their ears. The line of stitching (so later also the scar) runs only through the furrow between the back of the ear and the scalp.
---
---
GOAL
The aim of the procedure is to improve the appearance of the ears and give them the correct position.
---
PREPARATION
Like any procedure, you need a good general health condition, abstain from smoking 2 weeks before and 2 weeks after the procedure. Do not take any medication that disturbs blood clotting for at least 4 weeks before the procedure.
---
CONTRAINDICATIONS

The contraindication to the procedure are severe diseases, e. g. diabetes, clotting disorders, arterial hypertension and any inflammation in the surgical area.
---
TESTS FOR THE PROCEDURE
For local anaesthesia, the following tests are necessary:
morphology with blood smear, ESR
coagulogram (APTT, Prothrombin Ratio, INR)
For general anaesthesia, the following tests are necessary:
blood type
morphology with blood smear, ESR
urine test
coagulogram (APTT, Prothrombin Ratio, INR)
fasting blood glucose level
electrolites (K, Na)
Antigen HBS, HIV, HCV
ionogram, urea, creatinine
ECG with description
---
TYPE OF ANAESTHESIA
Usually this procedure is performed under local anaesthesia, children are treated under general anaesthesia.
---
DURATION OF THE PROCEDURE
The procedure is one of the shortest in plastic surgery, duration of the procedure is between 0.5 to 1 hour.
---
POSTOPERATIVE SYMPTOMS
After the procedure, swelling and bruising of the ears may occur, all these symptoms will pass after about 10 days. The pain that may occur after the procedure can be relieved with analgesics, but the pain will also disappear after a few days.
---
COURSE OF CONVALESCENCE
The stitches are removed within 7-10 days, up to 2 weeks after the surgery you should wear a band and another 4 weeks at night to protect your ears from injury while sleeping. In some cases, the wristband is worn for up to 4 months per night. Take care not to expose yourself to the sun.
---
POSSIBLE COMPLICATION
infections
bleeding
hypertrophic scar (needs further procedure)
---
TIME SPENT IN THE CLINIC/ABSENCE
There is no need for the patient to stay in the clinic after surgery, the absence is between 7 and 10 days.
---
PROCEDURE'S EFFECTS
The procedure of otoplasty performed once makes the ears "glued" to the head for life. The effect is visible after about 6 weeks, and the final effect is visible after 3 months.