---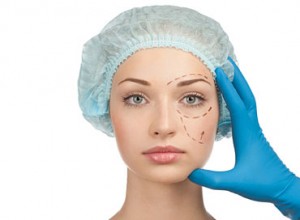 ---
The procedure may be performed in the hospital or the doctor's office, under local anaesthesia or general anaesthesia, if the patient prefers to "sleep" during surgery. Before the procedure, the hair is bound in streaks and a narrow "path" is shaved off where the cuts will be performed.
The cutting line is determined individually. Generally, it starts on the hairy scalp on the temples, then runs a gentle curve downwards in natural cracks of the skin towards the ears (it is also possible to hide this part of the scar inside the ear), turns around by the ear lobe; roughly half of the ear auricle it is directed back into the hair skin, parallel to the edge of the hairline.
---
---
GOAL
Face lifting is designed to eliminate excess skin, reduce wrinkles. The treatment definitely improves the appearance of the face, it visibly rduces the age.
---
PREPARATION
The patients smoking tobacco should stop smoking 2 weeks before the operation. A week before the surgery, you should abstain form taking medicine that reduce blood clotting. The patient cannot eat, drink or suck candies and chew gum 6 hours before the procedure.
---
CONTRAINDICATIONS
All severe and chronic diseases are contraindications for the procedure: diabetes mellitus, hypertension, heart diseases.
---
TESTS FOR THE PROCEDURE
---
blood type
morphology with blood smear, ESR
urine test
fasting blood glucose level
coagulogram (APTT, Prothrombin Ratio, INR)
ionogram, urea, creatinine
Antigen HBS, HIV, HCV
ECG with description
chest radiograph
electrolites (K, Na)
nose smear
---
TYPE OF ANAESTHESIA
The operation is carried out under general anaesthesia.
---
DURATION OF THE PROCEDURE
Face lifting takes between 1.5 to 3 hours.
---
POSTOPERATIVE SYMPTOMS
After the procedure, slight swelling and bruising may occur, but it all passes and after a few days the patient feels well. Pain after surgery can be relieved with analgesics.
---
COURSE OF CONVALESCENCE
After 1 day the drains are removed and the patient returns home, after about 7 days the doctor pulls the stitches out and the whole protective dressing is removed after about 2 weeks.
---
POSSIBLE COMPLICATIONS
Most common complications:
postoperative hematoma
accumulation of serous fluid
scar overextension
cicatrisation ( in case of persons prone to it)
nerv injury (very uncommon)
The stay in the clinic usually is about 2 days. Absence is about 2 weeks.
---
TIME SPENT IN THE CLINIC/ABSENCE
The stay in the clinic is 1 day and absence is about 14 days.
---
PROCEDURE'S EFFECTS
The effect is spectacular, the face is rejuvenated by up to 10 years, the final effect is visible after about 3 months, and the procedure's effect lasts from 5 to 10 years