---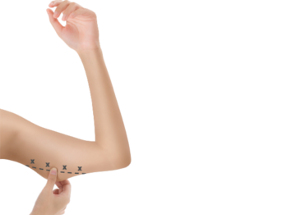 ---
Liposction is a quite common problem for many middle-aged women, too much adipose tissue and skin deforming their arms. Unfortunately, most often the excess of squeezed skin excludes the possibility of obtaining a good result after the mere extraction of adipose tissue.
In such a situation, we offer arm plasty, consisting in cutting out excess skin and adipose tissue, or using a combined method: liposction with skin removal. The cutting line and scar shape runs along the central part of the arm and at the armpit, therefore in places not visible at normal position of the hand.
---
---
GOAL
Modelling arms by removing loose skin and extracting adipose tissue.
---
PREPARATION
Every patient qualified for the procedure must be healthy and have proper laboratory tests. 4 weeks before and after the procedure, you should refrain from smoking tobacco 2 weeks before the procedure, you must not take medication that may cause clotting disorders.
---
CONTRAINDICATIONS
Cotraindications to the procedure:
diabetes
unstabilised arterial hypertension
clotting disorders
inlammation of the operated area
circulatory system diseases
---
TESTS FOR THE PROCEDURE
---
morpgology with blood smear, ESR
urine test
blood type
coagulogram (APTT, Prothrombin Ratio, INR)
fasting blood glucose level
electrolites (K, Na)
ionogram, urea, creatinine
Antigen HBS, HIV, HCV
ECG with description
chest radiograph
nose smear
---
TYPE OF ANAESTHESIA
The procedure is performed under local or general anaesthesia, but it depends on the doctor and the size of the area under surgery.
---
DURATION OF THE PROCEDURE
The treatment lasts between 1 and 2 hours on average.
---
POSTOPERATIVE SYMPTOMS
The swelling and bruising disappears after a few weeks, drains are left under the skin so that the wounds can be cleansed from blood and secretions. A compression dressing is placed in the surgical area, which can be removed after about 4 weeks, and the stitches are removed after about 7-10 days. You can return to active life after about 2-3 weeks, to sport after 4 weeks.
---
COURSE OF CONVALESCENCE
You can return to active life after about 2-3 weeks, to sport after 4 weeks.
---
POSSIBLE COMPLICATIONS
Most common complications:
wound infection
haematoma
pulmonary embolism
fat embolism
Remember about the doctor's instructions, which will allow you to go safely through the procedure and the time after the procedure.
---
TIME SPENT IN THE CLINIC/ABSENCE
The patient stays in the clinic for 1 day, absence is about 2 weeks.
---
PROCEDURE'S EFFECTS
The final effect of the procedure is visible after 3 months, it is a procedure which effects are permanent. It should be remembered that any fluctuation in the body weight of over 5 kg may, unfortunately, spoil the effects of the procedure.